You can soon have a conversation with Google Assistant without shouting "Hey Google" for every request
You can soon have a conversation with Google Assistant without shouting "Hey Google" for every request
At Google I/O today, the Mountain View company has announced several new Assistant features to make it "more naturally conversational" and "visually assistive".
Chief of which is the ability to have a continued conversation. What this means is that you'll no longer need to shout "Hey, Google" or "OK, Google" for each follow-up request. It works similar to Amazon's Alexa in that it'd wait for your follow-up question after serving up the first response for a few seconds (eight, in this case) before going back to sleep. Assistant is also able to answer multiple questions asked in the same sentence and perform "routines" (multiple actions in one command). Multiple actions and customized routines will start rolling out to users today, while the continued conversation feature is said to be coming "soon". Scheduled routines - that is, setting day or time for custom routines to happen - will arrive this summer.
To encourage children to be polite, Assistant is also getting something called Pretty Please later this year. In short, Assistant will offer praises when it detects the child is speaking to it politely. (According to Google, its Home speakers are a hit with children.)
Also available today are six new voices for Google Assistant. Some familiar voices will appear later this year, such as one by John Legend.
Even more features coming to Google Assistant
New visual design for phones - Google is basically making better use of the phone's screen real estate when showing your Assistant results. Google says it'll be "more immersive, interactive, and proactive" (for example, Assistant is able to show you a snapshot of your day). It will also work with other note-taking apps.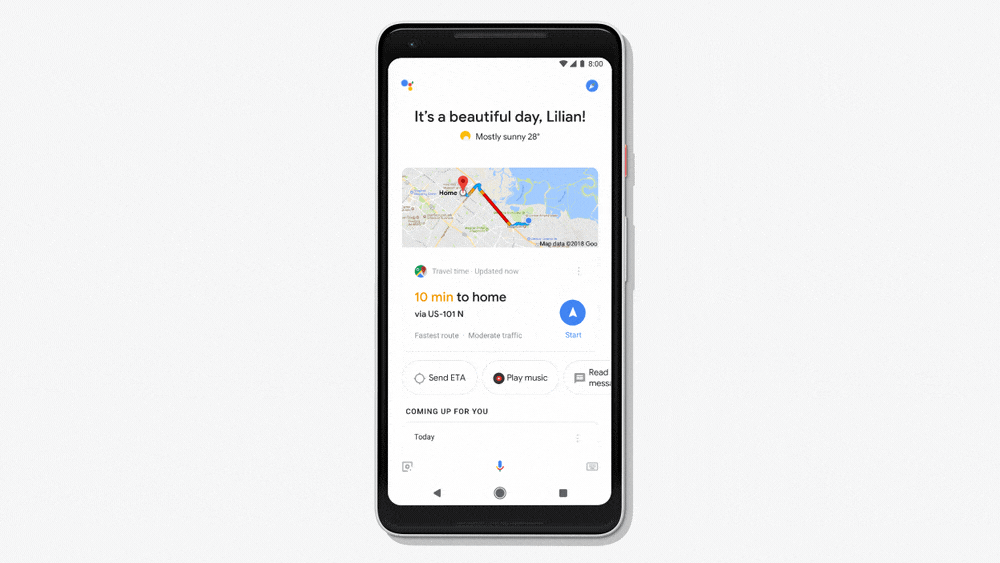 Google Smart Displays - YouTube TV and an integrated cooking experience are coming to Smart Displays, alongside services such as Maps, Calendar, Duo, and Photos. They will be available for purchase this July in the U.S., but there's no word if they are coming to Singapore.

Assistant in Google Maps navigation - Google Assistant is coming to navigation in Google Maps this summer, which means you can then send text messages, play music and podcasts, and get information without leaving the navigation screen. You can also share your ETAs with others via voice.

Google Duplex - This technology will enable Assistant to call businesses on your behalf and it's quite amazing to see it in action. You can read more about it here.
For some numbers, Google says Assistant is now on more than 500 million devices. It works with over 5,000 connected home devices and can be found in cars from more than 40 brands. Assistant will also be available in more than 30 languages and 80 countries by the end of 2018.