iOS 11.0.3 is out to address issues with iPhone 6s, 7 and 7 Plus
iOS 11.0.3 is out to address issues with iPhone 6s, 7 and 7 Plus
In what looks like the longest string of updates in the shortest period of time, iOS 11.0.3 is now available to download on compatible iPhones and iPads.
This update looks to be a bug fix that addresses two issues. One is an audio issue and haptic feedback that didn't work properly on some iPhone 7 and 7 Plus devices. The other addresses an issue where iPhone 6s devices with non-genuine Apple parts became unresponsive to touch inputs.
Of course, Apple took this opportunity to warn that you should always have your iPhone or iPad serviced by Apple-certified personnel at Apple-certified service providers, or be prepared to face more of such issues.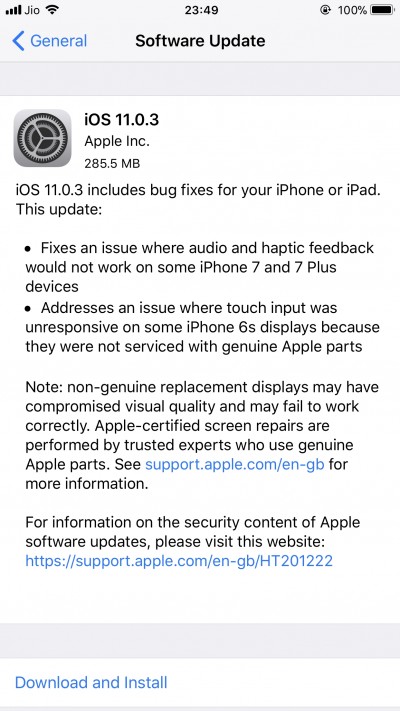 There is still no mention of battery life, so we can only hope that the issue that cropped up with the initial release of iOS 11 was resolved sometime between iOS 11.0.1 and this one.
iOS 11 was first announced for general availability on September 19, and this is the third update since its initial release three weeks ago. iOS 11.0.2 was released last week, with iOS 11.0.1 a week before that, and a week after iOS 11.
Source: GSMArena.